Only 4SEMO gives you the freedom to choose products, materials, profiles, colors and installs them as well. 4SEMO offers top of the line vinyl siding from companies such as Norandex Reynolds, Vinyl Products, CertainTeed. Our qualified installers are here to meet the customers siding, guttering, fascia, soffit, and shutter needs.
Our qualified technicians install seamless gutters and downspouts. An added bonus to great guttering is a product called Leafproof. Leafproof is the "most advanced gutter protection system" you can have installed. It is designed to prevent leaves, sticks, and other debris from clogging up gutters. This means no more hazardous, aggravating, messy gutter clean outs.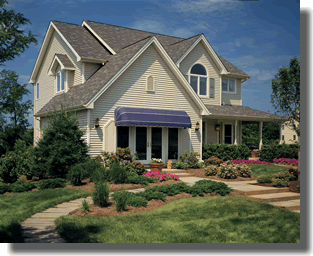 Americana Building Products manufactures a great line of awnings. Awnings add architectural interest to the home as well as blocking out the sun in problem areas where a porch is not functional. Awnings can be installed on any surface, residential or commercial.
If the customer desires we can also install any other siding products such as brick carried by your local hardware. Complete our online estimate form or simply give us a call at 573-276-1700 or toll-free at 800-509-0060.